PLCH LVCH SKCH HUCH C.I.E
Davos Ebony Naster
HD A,CSNB-free, EU-ua
cm
Black
Polish charactertest
CACIB/R-CACIB
BOB/BOS
BIS/BIG
BISS
CAC IN POLAND
CAC IN HUNGARY
CAC IN LATVIA
CAC IN AUSTRIA
Polish champion
Slovakian champion
Latvian Champion
Hungerian champion
Internationel champion (CIE)
Clubbwinner 2017
BIS Dogshow 2017
Winner Poland2017
Clubwinner Austria 2018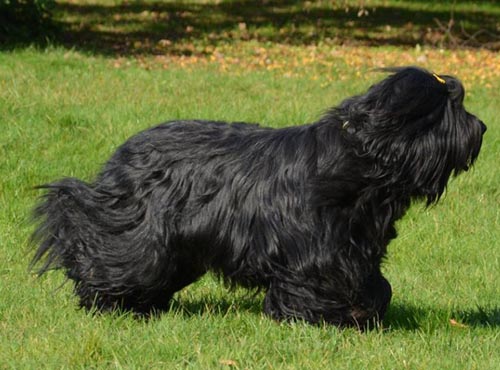 I met Davos at the World Dog Show 2017 in Lepzig. I immediately fell for his beautiful exterior and his nice temperament. He has a very beautiful rich coat, beautifully strong male head with dark beautiful eyes. Underneath the fur there is a sturdy body with exquisite bones. He has perfect movements. He is three years old and has two litters after him, born in 2017. Davos has lots of winns and has several BOB, BIG, BIS placements. He is a champion in Poland, Hungary and Slovakia. He won the Polish Briardspecial 2017.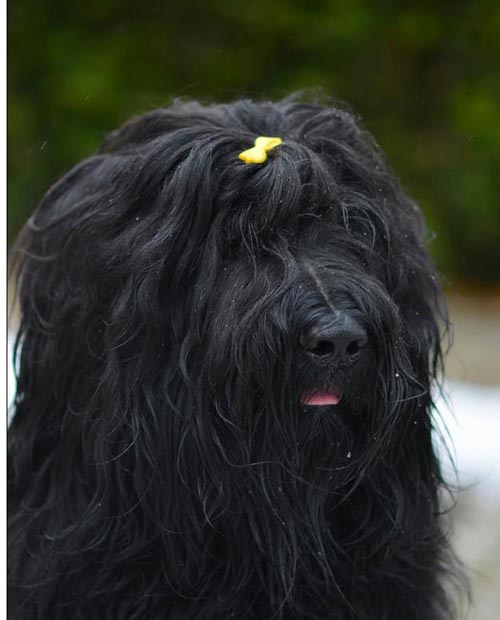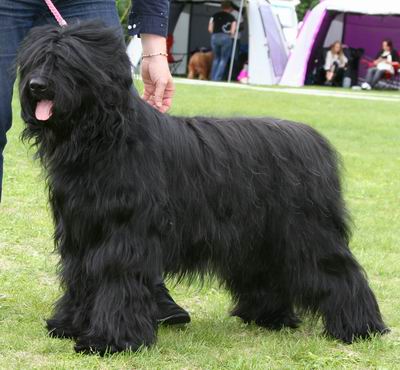 KORAD LV JW-14 DK CH NO UCH LV CH CIE Sél Se-16 Sél Be-17 Sél.Nl-18
Afrodite Ein Bayrisches Sonnenkind
HD A,CSNB-free, EU-ua
59 cm
Homozygot Black
Approved Mentaltest
KORAD 405 p
CACIB/R-CACIB
BOB/BOS
2*BIG 4 (SKK)
BIS-2
CAC IN DENMARK
CAC/R-CAC IN NORWAY
CAC IN LATVIA
JUNIORCAC IN LATVIA
4*CAC IN FRANKRIKE
CAC IN GERMANY
Nordic CAC
R-CAC in N-L
Dannish champion
Norwaigian champion
Latvian champion
Internationel champion (CIE)
Latvian Junior Winner 2014
Qualified to Crufts 2015
Qualified to Crufts 2016
Qualified to Crufts 2019
Approved Herdingtest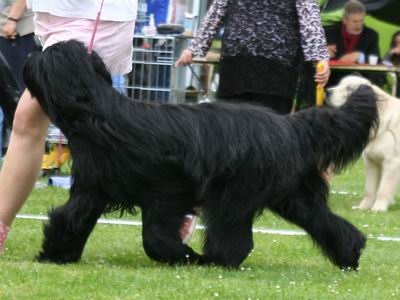 "Afrodite" is our German import. She has all the qualities I want in a Briard. Positive, lively, kind and really beautiful. She has a deep black fur that is easily maintained. Feminine expressive head, good body and very good movements. She is a dog that you add to notice when she has that little "extra". She comes from a litter of six individuals where everyone is x-rayed with HD A. Aphrodite has a successful career in the show ring. She was blah, the first Briardpuppy to be selected and participate in Puppy of the Year. Only 2 years and 5 months, she took her first championship; CIE. She has since also become Latvian, Danish and Norwegian Champion. She is short, our German jewel! She has a litter earlier, AC / DC-litter which is really promising.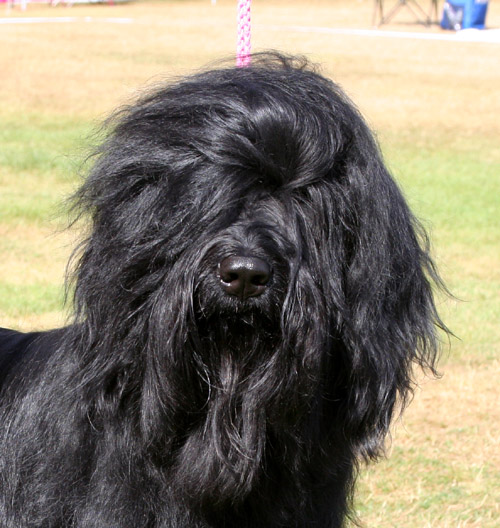 My thoughts about this litter; I'm sure this will be incredibly beautiful dogs. I also think that they will be lively and happy dogs. I think they will get their parents' friendly ways. These puppies are suitable for both the exhibition-interested, the contest-interested and the active family who want a dog to be by there side as a nice family-mem,ber. There will be only black puppies because Afrodite is Homozygous. I look forward to new Afrodite puppies!
Interested?
Contact me at Mail; goblinwalley@hotmail.com or 070-3876886
Safest is the mail because I work shifts and have a little bit strange times when I am reachable.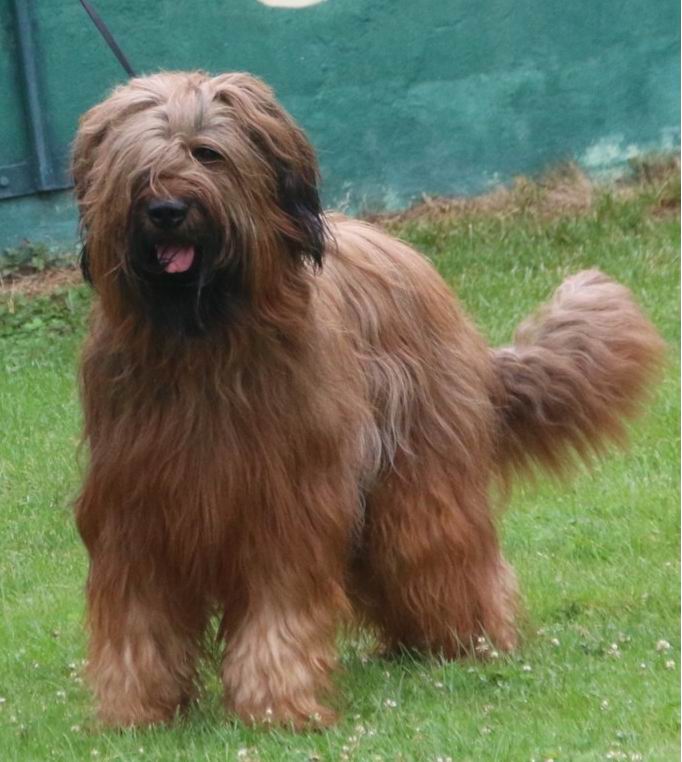 VDH CH
Canis Ferox Bambou
HD A, CSNB-free, Eu-ua
67 cm
CAC
R-CACIB
CFH Club-Jugend-Champion
Deutscher Champion VDH




Bambou is a spirited, but balanced and friendly dog, who is keen on all activities. Training, work, hiking, frisbee, cycling and more recently, rally obedience think he is funny. When it comes to learning something new is Bambou curious, easy to get involved and inspired. Especially respect he shows our slightly older Briarddam Maeva. While other dogs and small animals is something that Bambou tolerate. He walks confidently out of the way, without being scary. Bambou is a real ray of sunshine, which is just about everywhere. More info about Bambou on his own page: http://www.briard-bambou.de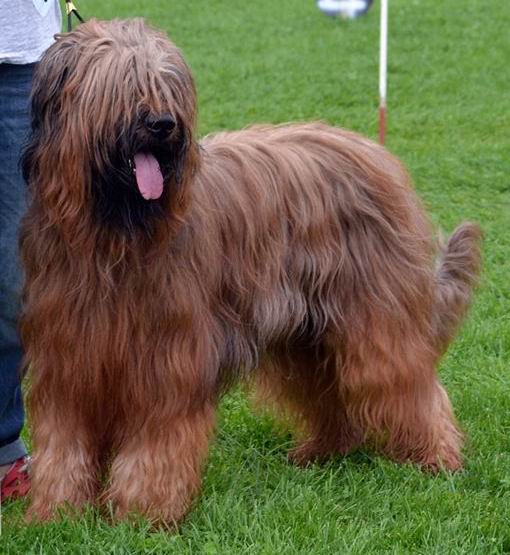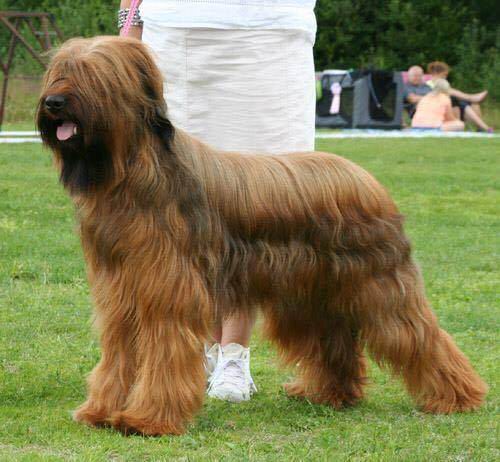 Northstar Juniorwinner-16 KORAD NO UCH
Goblinwalley Slow and Easy
HD A CSNB-free
62 cm
Mentaltested
CK
BOB
BIS 1 junior on Briard clubshow
Norwaigian champion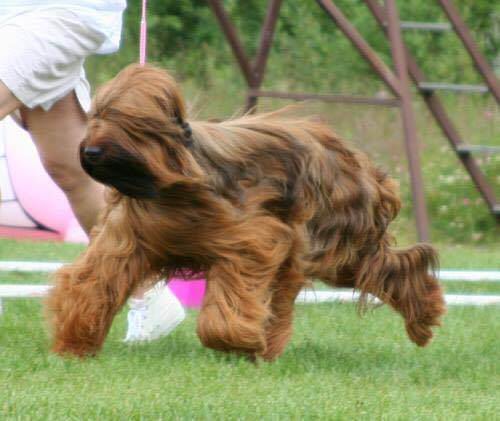 "Debby" is a beautifully lined bitch with an fantastic fawn color. She has great stature and great movements. "Debby" is a elegant bitch with good bone. She has beatiful dark eyes. She has a nice easy-care coat. She come from our Whitesnake-litter where all have free hips and severel of them is showned with good results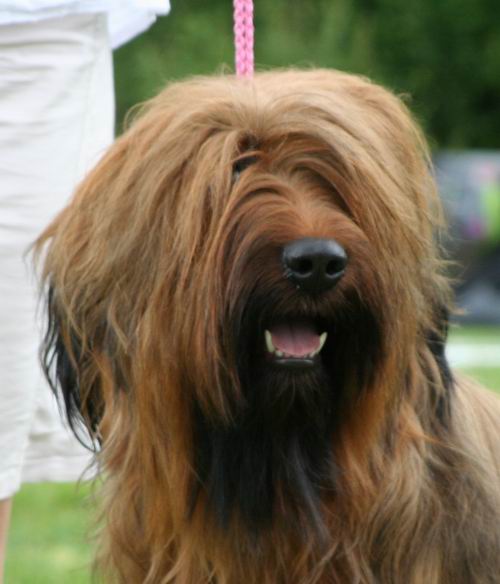 For Debby we have been looking for a male who meets our criteria; good HD, good fawn, and with a pedigree that we do not have so much of this in Sweden. We found Bambou! Bambou comes from a litter of 10 individuals which 7 are x-rayed with A and three are oröntgade. Even backward looking HD statistics good. We hope and believe in nice puppies with really good fawn. Dogs that fit the exhibition interested but also those who want to race or just have an active family member.
Interested?
Contact me at Mail; goblinwalley@hotmail.com or +46 (0)70-3876886
Safest is the mail because I work shifts and have a little bit strange times when I am reachable.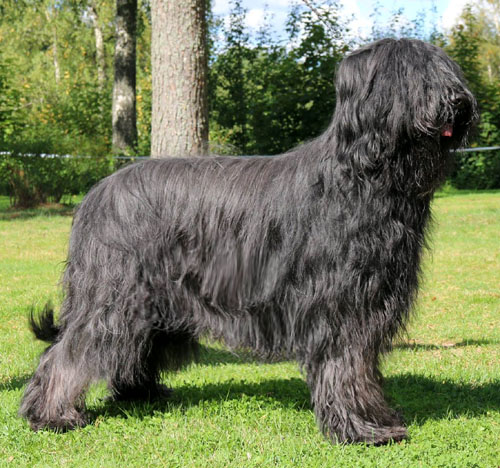 DK CH NO UCH Sel. Sve.
Goblinwalley Whiskey In The Jar
HD A, CSNB-free
Approved Mentaltest
EU-ua
CK
BOB
CAC IN NORWAY
CAC IN DENMARK
R-CAC IN NORWAY i Norge
CACIB
R-CACIB
Dannish champion
Norwaigian champion
Selectioné Sweden
Approved Herdingtest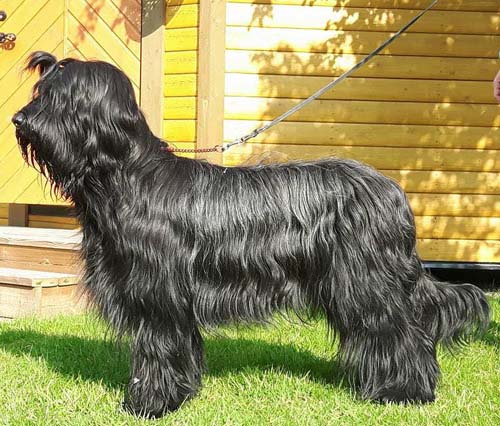 NO JW-16 SE JW-16 NO UCH DKCH Sél Be-17
Goblinwalley Sink the Pink
HD B, CSNB-free
Approved Mentaltest
2*BIS-1 puppy
BOB-baby in France
BOB-puppy on clubshow
BIS-puppy on Clubshow
CK
BOB/BOS
BIG-4
CAC IN NORWAY
CAC IN DENMARK
CAC IN FINLAND
NORDIC CAC
NORDIC R-CAC
CACIB
NORWEIGIAN JUNIORWINNER-2016
SWEDISCH JUNIORWINNER-2016
Dannish champion
Norwaigian champion
Qualified to Crufts 2016
Qualified to Crufts 2017*2